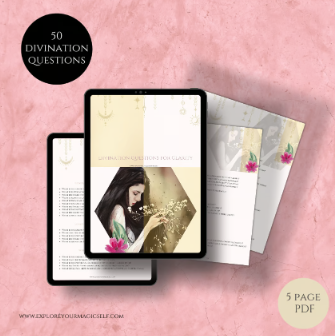 In this free opt-in offer, you'll receive a list of 50 powerful questions designed to help you dive deep while using your divination of choice.
Use them with Tarot, Oracle, Runes and more. They help you explore different aspects of your life, including work, love, family, relationships, spirituality, personal growth, health, finances, and travel.
By claiming this offer, you are joining our mailing list. You'll receive regular tips, tools, and inspiration to support your ongoing journey of self-discovery. Join us today and start exploring your magic self!
You will get a PDF (16MB) file