Embracing the Journey of Personal Transformation and Mindfully Addressing the Obstacles Along the Way
I have had the pleasure of engaging with countless individuals who have shared their stories of personal growth and transformation. These stories often highlight the profound sense of fulfillment and purpose that comes from embarking on a spiritual journey. However, they also reveal that navigating the path of spiritual growth is rarely a smooth, linear process. It is, instead, a winding road filled with challenges, setbacks, and, ultimately, moments of profound insight and growth.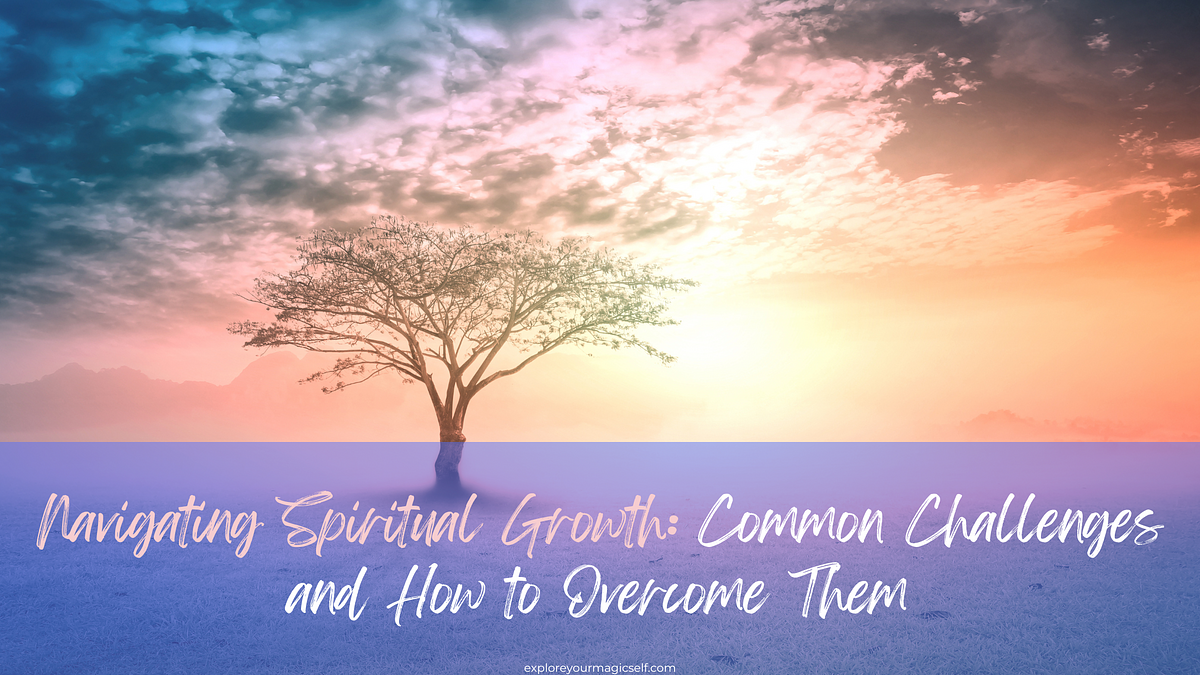 In my own experience, I have found that the journey of spiritual growth often involves confronting difficult emotions, questioning deeply-held beliefs, and learning to navigate the complexities of our ever-changing world. As we embark on this transformative journey, it is essential to recognize the challenges that may arise and develop strategies to overcome them mindfully and compassionately.
Here are some common challenges that one might face on the path of spiritual growth and strategies to address them:
Facing our own resistance: As we begin to explore our inner world and confront the aspects of ourselves that we may have long ignored or denied, it is natural to experience resistance. Our minds can be incredibly skilled at creating distractions and justifications to avoid facing our fears, insecurities, and past traumas.
Strategy: Practice self-compassion and patience as you work through your resistance. Recognize that this is a natural part of the growth process and be gentle with yourself as you confront challenging emotions and beliefs. Engaging in mindfulness practices, such as meditation or yoga, can help cultivate awareness of your resistance and support you in moving through it with greater ease.
Navigating relationships during spiritual growth: As we grow and evolve on our spiritual journey, our relationships with others may also change. We may find that we no longer resonate with certain people or social situations, leading to feelings of isolation or disconnection.
Strategy: Communicate openly with your loved ones about your spiritual growth and seek out new connections with individuals who share your values and interests. Consider joining a spiritual or personal growth community, such as a meditation group, book club, or online forum, where you can find support, encouragement, and connection with like-minded individuals.
Dealing with uncertainty and doubt: The path of spiritual growth often involves stepping into the unknown and questioning long-held beliefs and assumptions. This can lead to feelings of uncertainty, doubt, and even fear.
Strategy: Embrace uncertainty as an opportunity for growth and exploration. Rather than seeking definitive answers, cultivate curiosity and openness to new perspectives and experiences. Journaling, engaging in reflective conversations, and seeking guidance from spiritual teachers and mentors can help provide insight and support during times of doubt and uncertainty.
Balancing spiritual growth with the demands of everyday life: As we delve deeper into our spiritual journey, we may find it challenging to balance our newfound insights and practices with the demands of our everyday lives.
Strategy: Integrate your spiritual practices into your daily routine by setting aside time for meditation, mindfulness, or other nurturing activities. Create a schedule that allows for both personal growth and the fulfillment of your daily responsibilities, and be flexible in adjusting your routine as needed.
Managing expectations and the desire for quick results: In our fast-paced, results-driven society, it is easy to become impatient with the slow, often nonlinear process of spiritual growth.
Strategy: Cultivate patience and trust in the unfolding journey, recognizing that growth and transformation often occur gradually over time. Rather than focusing on specific outcomes or milestones, shift your attention to the present moment and appreciate the growth and insights that emerge along the way.
In my own spiritual journey, I have found support and guidance in the form of books, workshops, and conversations with like-minded individuals to be invaluable. One resource that has particularly resonated with me is the book "The Untethered Soul: The Journey Beyond Yourself" by Michael A. Singer. This inspiring and insightful guide offers practical tools for navigating the challenges of spiritual growth, helping readers to release limiting beliefs, embrace the present moment, and discover their true potential.
Another influential resource on my personal path has been the online course "The Power of Awareness" by renowned spiritual teachers Tara Brach and Jack Kornfield. This comprehensive program offers a deep exploration of mindfulness and self-compassion practices, providing students with the tools and support needed to cultivate inner peace, resilience, and well-being in the face of life's challenges.
As you continue to navigate your spiritual growth journey, remember that the challenges and obstacles you encounter along the way are not roadblocks but rather opportunities for deeper self-discovery and transformation. By embracing these challenges with curiosity, compassion, and patience, you can learn to navigate the winding road of spiritual growth with grace and resilience.
As the poet Rainer Maria Rilke so eloquently wrote, "Let everything happen to you: beauty and terror. Just keep going. No feeling is final." The journey of spiritual growth is one of constant evolution and change, and it is through our willingness to embrace the beauty and terror of life that we come to discover the boundless potential that lies within each of us.
So as you continue to walk the path of spiritual growth, I encourage you to embrace the challenges, setbacks, and moments of insight with open-hearted curiosity and compassion. For it is in these moments of vulnerability and courage that we truly find our strength and come to understand the profound wisdom that resides within our own hearts.
In the words of the great poet and mystic Rumi, "The wound is the place where the Light enters you." By facing our challenges with courage and compassion, we open ourselves to the transformative power of spiritual growth and come to recognize that the light we seek has been within us all along.
May your journey be filled with growth, insight, and the unwavering support of those who walk the path alongside you. And as you navigate the ever-changing landscape of your spiritual growth journey, may you find solace in the knowledge that you are not alone, but rather part of a vast, interconnected tapestry of seekers, dreamers, and visionaries who are also walking this winding road toward greater self-discovery, understanding, and love.