We know that manifesting self-love can be tough, but with a little effort and a lot of laughter, you can get started and hopefully continue the journey. After all, laughter is the best medicine - especially when it comes to loving yourself! 
Let me tell you how to manifest self-love from a self-described self loather.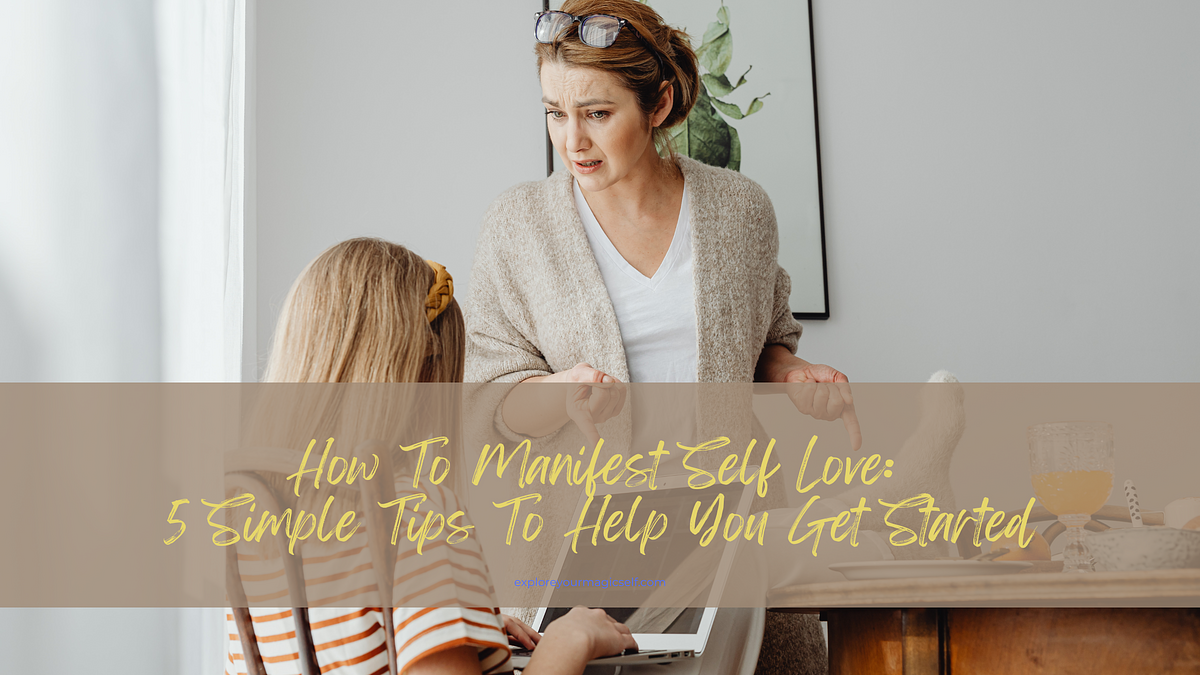 1. Start with a positive attitude
If you're like most people, your self-love could use a little boost. But don't worry, there are plenty of things you can do to improve your relationship with yourself.
Start by focusing on the good things. Make a list of all the things you love about yourself, no matter how small.
Then, every day, take some time to focus on one of those things. Give yourself a compliment, and really believe it.
Soon, you'll start to see a difference in the way you feel about yourself. I know, it sounds all woo-woo, but it really can work if you let it.
See the good in yourself, and be grateful for all the good things you have in your life. This will help you to be more positive and set a good example for yourself (the only one who really matters) – which is the first step to manifesting self-love.
2. Visualize what you want
If you're looking for some tips on how to manifest self-love, look no further! One of the best things you can do is to take some time each day to visualize what you want. Make sure that your visualization is positive and inspiring, and watch as your self-love manifests itself before your very eyes!
All the gurus say "Imagine yourself in your ideal life, surrounded by the things you love and enjoy". But, I'm here to tell you, that you can take it down a notch especially if that feels like it's too good to be true.
Instead of imagining an ideal life, imagine what your life could be like if it was "better" than it is now. You live in a bigger city? Out in the suburbs? You have faster internet and wifi? Your ugly, hateful, suffocating co-worker leaves and you can breathe at work now!

Be sure to include all the details – including your happy thoughts, feelings, and sensations. This will help to create a powerful visual image of what you want and help you to move closer to your goals.
3. Be grateful for what you have
This one can be really hard to focus on some days. But, if you want to attract more self-love into your life, start by being grateful for everything you have.
From your health to your relationships, think about all the things that are going right and give thanks for them.
Notice the good things in your day-to-day, and take time to be grateful for your family, friends, and loved ones. This will help to increase your feelings of love and happiness and help you to manifest self-love more easily.
This positive attitude will attract even more good things into your life, making it easier to love yourself. Sounds hokey, right? But, have you ever bought some new thing like a car or phone or ... whatever? Suddenly, you notice those things everywhere you go!
Gratitude works the same way in that you will start noticing all the things you have to be grateful for.
Here are some of the things I'm grateful for today:
I could afford the groceries today.
My eldest daughter's friends threw a party for my youngest daughter's birthday.
I have running water in my house.
I have heat in my house.
I have a car that is dependable and doesn't break down all the time.
4. Exercise
Physical activity has been shown to boost feelings of happiness and well-being – and it's also been shown to help with manifesting self-love. On the other hand, if you can't do physical activity due to disability or injury, then exercise can become an act of self-loathing, right?
Find something you can do. I watch a lady on Tiktok who is wheelchair-bound but can move her upper body and arms. So, she does movement with what her body can do, from dancing to music to arm flapping and weight lifting.
I have physical deformation and injury, so I can't (shouldn't) do the movement with impact on my joints. So, several years ago I started to practice pilates which builds strength without impact.

Physical movement and exercise release endorphins, which are hormones that can boost mood and happiness, so no matter what kind of movement you can accomplish, it's a great idea to do it.
5. Allow yourself to be vulnerable
I'm not one to talk to myself out loud, but I do have an inner monolog and sometimes, it's downright "mean girls". If you want to develope your relationship with the inner "nice girl", allow yourself to be open and honest with yourself.
If you want to manifest self-love, tell yourself the things you want to hear and be willing to listen to the feedback you receive.
This may seem like a no-brainer, but it's actually quite difficult to do. We are often our own worst critics, so it can be hard to give ourselves the positive reinforcement we need. However, if we're not willing to listen to what we have to say to ourselves, we'll never be able to truly love ourselves.
I went through coach training for a year where I learned about how the mind works, how our emotions affect our thinking and how humans in general react, rather than respond. It helped me learn how to understand and respond to the mental illness and differences in my family, and in me.
If you stick to it, this will help you to become more self-aware, and to better understand your own wants and needs.
I hope these tips help you to start manifesting self-love and to feel happier and more fulfilled in your life.