Hey there, fellow astrology enthusiasts! As you probably already know, the zodiac signs are a great way to understand ourselves and others a little better. Each sign has its own unique traits and characteristics that can be both endearing and, well, a little frustrating at times.
But let's not take ourselves too seriously today. Instead, let's have some fun with the zodiac and explore some of the funnier aspects of each sign.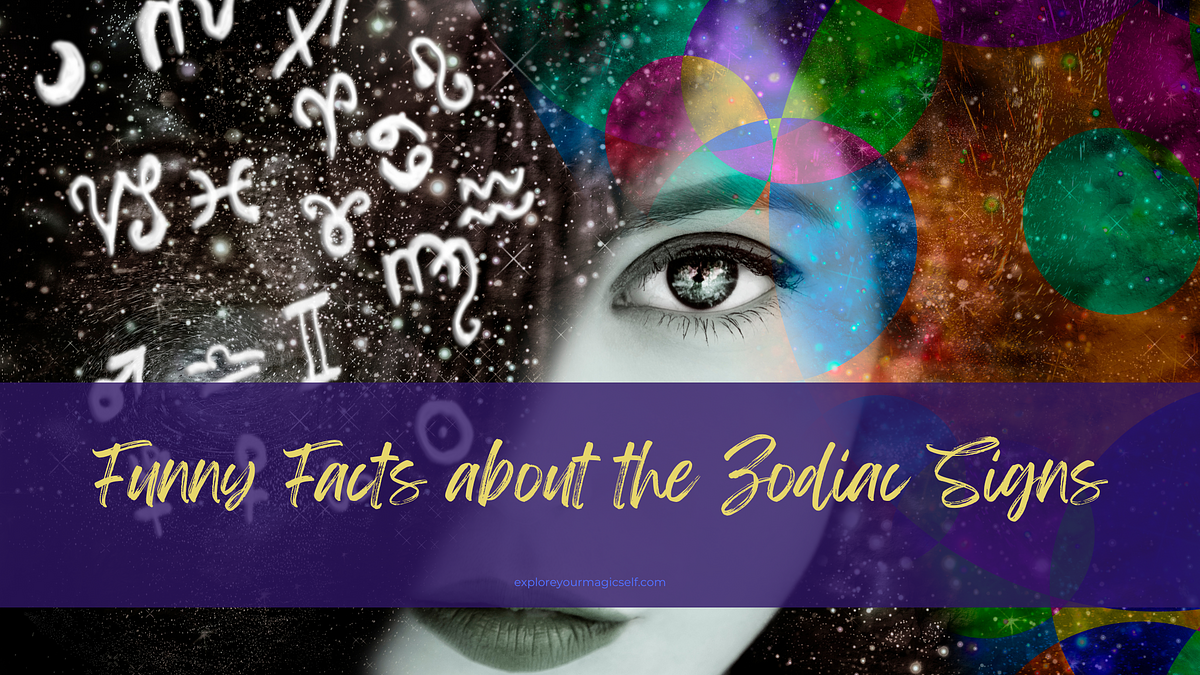 I hope you'll enjoy this lighthearted look at the zodiac, and perhaps even recognize a little bit of yourself (or someone you know) in some of these descriptions.
Aries: The Energizer Bunny of the Zodiac
Aries, oh Aries. As the first sign of the zodiac, you are full of boundless energy and always ready to take on the next challenge. In fact, you are often so eager to start things that you may not even think about the consequences (who needs a plan when you've got guts and determination, right?).
But this boundless energy can also lead to some funny moments. I'll never forget the time I saw an Aries friend try to start a food fight in the middle of a fancy restaurant. Talk about not being able to resist the urge to stir things up!
Taurus: The Most (Stubborn) Bull-Headed Sign
Taurus, you are known for your stubbornness and determination to stick to your guns. This can be a great quality when you're trying to achieve a goal, but it can also lead to some comical situations.
I once saw a Taurus argue with a wall for a good ten minutes, just to prove a point. The wall, of course, didn't have a comeback, but that didn't stop my Taurus friend from continuing the argument.
Gemini: The Indecisive Twin
Gemini, you are known for your dual nature and your ability to see both sides of any argument. But this quality can sometimes make it difficult for you to make decisions.
I have a Gemini friend who can't even pick a favorite color without consulting a personality quiz. And don't even get me started on trying to make dinner plans with a Gemini – it's like trying to nail Jell-O to a tree.
Cancer: The Emotional Crab
Cancer, you are known for your deep emotions and your ability to feel things on a very deep level. This can be a beautiful quality, but it can also lead to some funny (and maybe a little embarrassing) moments.
I once saw a Cancer cry at a commercial for paper towels. I mean, they were super absorbent and everything, but come on!
Leo: The Attention-Seeking Lion
Leo, you love to be the center of attention and will do just about anything to make sure all eyes are on you. This can be charming and entertaining, but it can also lead to some over-the-top antics.
I have a Leo friend who brings a microphone to a one-person conversation, just in case they need to make a dramatic announcement. And let's just say, their soliloquies can be a little...much.
Virgo: The Perfectionist Virgin
Virgo, you are known for your attention to detail and your perfectionist tendencies. This can be a great quality when it comes to your work or hobbies, but it can also lead to some OCD-level behaviors.
I am the Virgo friend who alphabetizes the spices in their spice cabinet (and my friends').  I mean, sure, it makes it easier to find the cinnamon when you need it, but is it really necessary to go to such lengths?
But despite their perfectionist tendencies, Virgos can also be some of the most practical and down-to-earth people you'll ever meet. They have a no-nonsense approach to life and can always be counted on to give sound advice.
Libra: The Fair-Minded Scales
Libra, you are known for your sense of fairness and your desire for balance and harmony. This can be a great quality, but it can also lead to some frustrating moments when you try to give equal attention to both sides of an argument, even if one side is clearly wrong.
I have a Libra friend who once spent an entire evening debating the merits of both pineapple and pepperoni on pizza. And no, they still haven't made a decision (and probably never will).
Scorpio: The Mysterious Scorpion
Scorpio, you are known for your mysterious and intense nature. You have a deep and complex personality, and sometimes it can be difficult for others to understand you.
But this mysterious quality can also lead to some funny moments. I have a Scorpio friend who can disappear and reappear in a puff of smoke, and it wouldn't even surprise me. They always have an air of the unexpected about them.
Sagittarius: The Adventurous Archer
Sagittarius, you are known for your love of adventure and your desire to explore the world. This can lead to some exciting and memorable experiences, but it can also lead to some reckless and spontaneous behaviors.
I have a Sagittarius friend who once bungee-jumped off a bridge just for the thrill of it. And while I can't say I understand the appeal, I do have to admire their fearless nature.
Capricorn: The Responsible Goat
Capricorn, you are known for your hardworking and responsible nature. You are always thinking ahead and planning for the future, and you take your commitments very seriously.
But this responsible nature can also lead to some funny moments. I have a Capricorn friend who has a five-year plan for their five-year plan. Talk about being prepared!
Aquarius: The Unconventional Water Bearer
Aquarius, you are known for your unconventional and unpredictable nature. You march to the beat of your own drum and don't let societal norms dictate your behavior.
This can lead to some interesting and unique fashion choices, like wearing mismatched socks on purpose. And while some may find it quirky, I think it's just another example of Aquarians' refusal to conform.
Pisces: The Dreamy Fish
Pisces, you are known for your dreamy and imaginative nature. You have a rich inner world and often get lost in your own thoughts and daydreams.
This can lead to some funny moments, like getting lost on the way home because you were too busy daydreaming. But it can also lead to some beautiful and creative endeavors, as Pisces are often talented artists and writers.
While this was poking fun at the signs of the zodiac, remember, astrology is meant to be a tool for self-discovery and understanding, not a strict set of rules to live by. So embrace your unique traits and quirks, and don't take yourself too seriously.

And who knows, maybe you'll even see a little bit of yourself